Riding on the latest trend of poke eateries in Southern California is Pokeworks, which had it's Irvine Grand Opening this past Saturday.
Nancy and I had a chance to drop by Pokeworks who were promoting their opening with a buy one get one free offer — so of course we had to give it a try!
We thought we'd beat the rush although when we got there at 11:30am there was already a line out the door. Two people in front of us had started a timer to see how long it would take to get to the front door. Their timer was already at 10 minutes when Nancy and I got in line. (Spoiler: It would reach 40 minutes before we got our food.)
The Pokeworks ordering system is a lot like the popular assemble-as-you-go method used at places like Mod Pizza and Chipotle.
You first pick your base: Bowl, Wrap (they call it a Pokeritto), or Salad.
Then you choose the type of protein such Ahi, Salmon, or Albacore Tuna. Shrimp, Scallops, and Chicken are cooked sous vide. There is even a vegetarian tofu option.
Your mix-ins include items such as Cucumber, Edamame, Ogo Seaweed, Hijiki Seaweed, Blanched Kale, Cilantro, Shiso Leaves, and Diced Mango.
Choose Your Flavor: Classic Salt, Umami Shoyu, Ponzu Fresh, Sriracha Aioli, Wasabi Aioli, Spicy Ginger, Sweet Chili Gochu.
Last are the toppings: Avocado, Spicy Furikake, Seaweed Salad, Crab Salad, Masago, Wasabi Tobiko , Pickled Ginger, Wasabi, Sesame Seed.
Overall the food quality was reasonable. Pricing for me was a little higher than I would have liked. I got a large for $12.95 although I only did so because of the buy one get one free offer. I think under normal circumstances I would just get the regular size for $9.95.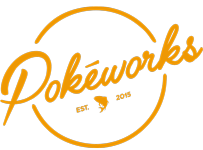 Pokeworks
15333 Culver Dr. #410
Irvine, Ca 92604
Pros:
Clean, efficient poke eaterie with a few innovations like the Poke Burrito.
Not too many upsell options so ordering is fairly simple.
Cons:
I didn't think the Poke was as fresh-tasting as I've had at other Poke places. This might be due to their big opening day surge. We may do a followup visit to see if the quality has changed.
Suggestions:
Try the Hawaiian Classic.