I was drawn into Crafted Donuts by accident- soon to find out what a "find" it was! At first I saw the chocolate covered doughnuts topped with bacon – I thought "really? they do that?" Then I looked at all the other amazing selections and I got some doughnut education from the girl across the counter- and I knew I had found a really special place for doughnuts!
This specialty doughnut shop offers lots of great creative Donut confections and is the new "hot spot" in Orange County for coffee and doughnut lovers alike!
They offer both the cake style donut and the lighter raised donut- as well as some other great options!
With names like Oreo Peppermint, Almond Joy, Mudslide, Banana Creme Pie, Mexican Hot Chocolate, and Big Pop Tart you can feel the creativity that goes into designing and making these beautiful donuts. The way they are all so perfectly decorated adds to the excitement of eating one!
I tried the carmel latte raised donut – which I shared with my friend as it was a fairly large donut. It was a good choice and a delicious donut. I grew up eating Krispy Kreme Doughnuts and I have to say they definitely have some competition in my book!
The Latte Caramel Doughnut was an excellant choice to match our Stumptown Cold Brew coffee. But there are lots of other wonderful drink options including raw juice drinks and a variety of hot teas, Cappuccino and Hot Chocolate.
I haven't had a chance to try it yet but I am still curious about the Chocolate Bacon Donut! Something to sample on our next visit to Crafted Donuts.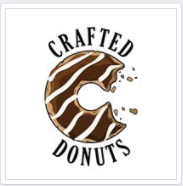 Crafted Donuts
18011 Newhope St f, Fountain Valley, CA 92708
Hours: Open today · 8AM–10PM
Phone: (714) 277-3656
Pros:
Great selection of doughnuts
Great coffee
Unique specialty doughnuts
Cons:
Most people can only really eat one doughnut per visit 🙂 They are big!.
Suggestions:
Carmel Latte Raised Doughnut. Great flavor and light fluffy texture.