The food and atmosphere here really reminds me of the small, no-frills eateries you find all over Hawaii. On a previous visit to Dough Dough's I had the teriyaki chicken plate and the chicken was moist and not too sweet or salty. It came with the customary "2 scoop rice" and macaroni salad. The macaroni salad wasn't as mayonnaise-y as they make it in Hawaii which is fine by me.
My wife again had their delicious Kalua pork sliders. The pork is smoked and served on 4 small buns without any barbecue sauce. That is simply the best way to enjoy all the mouth watering smoky goodness without being distracted by any overpowering tomato barbeque flavor.
I've tried a lot of different pulled pork type sandwiches here in the OC as well as in Texas and North Carolina and I'd say these pork sliders are the best!
On this visit I just couldn't resist the Kalua pork and cabbage plate. Like their luscious Kalua pork sliders, this dish is also surprisingly simple — just pork and shredded cabbage. However, it's through this simplicity that allows all the succulent flavors and textures to shine.
When you order this dish, be sure to savor those pork and cabbage juices at the bottom of the plate. Mix it with the rice and you'll be in food heaven!
As usual, the staff was very friendly and laid back. This is one place that always shows the Aloha spirit!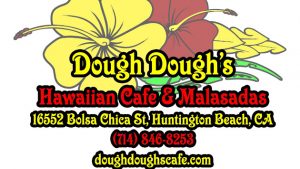 Dough Dough's Hawaiian Cafe
16552 Bolsa Chica St
Huntington Beach CA, 92649
(714) 846-8253
Pros:
Friendly Hawaiian food cafe
Great Kalua Pork dishes
Giant malasadas
Cons:
The malasadas aren't quite the same as you'll find at Leonards in Hawaii.
Suggestions:
Try the Kalua Pork plate and the Kalua Pork Sliders. Just wonderful smoky pork without being drowned in sauce.